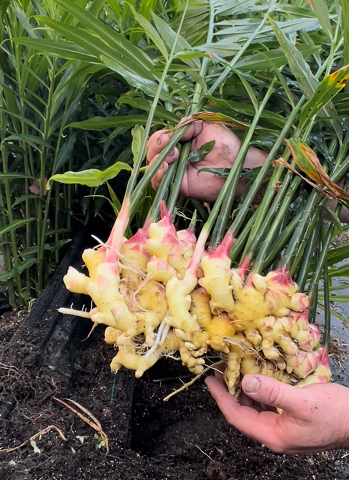 Below you'll find simple ways to use ginger to improve your health! Many of these came from an article in Learning Herbs by Rosalee da la Foret Circa 2019
Fire Cider
Fire cider is a tonic with a base of Apple Cider Vinegar and Honey. Other common ingredients found in the numerous iterations of the tonic include: Horseradish, ginger, chili peppers, garlic and onion. This tonic is used as a natural remedy against colds and the flu. It's also said to relieve congestion, and boost immunity.
This Blog on Fire Cider shows just one of the many variations. Momma D' has been making this stuff since I was a kid. It's a go to for us in the cold seasons.
Ginger Tea
You'll need a 1 inch piece of fresh ginger root grated or minced up. A shot of lemon juice, a dashy of honey or agave and 1 cup of boiling water. Add everything to the cup, pour in the boiling water and let it steep for 10-15 mins. Strain and enjoy.
Infused Honey
Grate or Mince enough ginger to fill 1/2 a vessel or jar. Top the vessel or jar off with honey and allow it to mettle for several days. Use to flavor foods or teas.
Ginger Miso Soup.
2 Cups of broth (Bone, Meat, or Veggie – visit with the Shenk's for their broth kits)
1 inch chunk of Ginger a pinch of black pepper and 2 -3 Tablespoons of Miso. To make, Place the broth, pepper and the ginger into a medium pan, bring to a simmer and cover for 10 minutes. Strain off the broth, let the broth cool slightly, then add miso to taste.
Pickled Ginger
We found this super simple recipe for making pickled ginger and loved it! Give it a shot!
A Dozen Ways To Use Fresh Ginger.
In a quick search we found dozens of ways to use fresh ginger, here are a dozen from Eating Well That their staff loved!
Shelley Young's
Shelley teaches us a method of drying and powdering ginger to store for the year! This is a perfect way to ensure you have fresh naturally grown ginger in your cupboard. Drying Ginger